Wed Nov 03 2021
The previous generations of MacBook Pro releases have been nice upgrades, with slightly new designs, USB-C and Thunderbolt ports, the introduction to Apple Silicon with last year's model. All nice changes but none of them have been enough to persuade me to upgrade until now.
The time has finally arrived. The new MacBook Pro is the laptop I've been waiting years for. For myself and plenty of other engineers, with the release of the M1 Pro and M1 Max MacBook Pros I have finally had my prayers answers by Apple. Amongst other things we now have...
Insanely powerful new Apple Silicon chips
New 120Hz 14 inch screen to replace the 13 inch (finally!)
Removal of the Touch Bar (I wasn't against the Touch Bar in the previous 16 inch model where there was at least a physical escape key that didn't freeze, but standard keys are welcomed)
More ports including 3 USB-C ports
Reintroduction of MagSafe charging
Reintroduction of HDMI
Reintroduction of 3.5mm audio jack
You might think reintroduction of previous features is a bit of a cop-out on Apple's part. Admittedly it's a bit cheeky making a big deal out of "new" features that are actually just features that once existed but were previously removed, but look on the bright side - we got back exactly what we asked for, and so much more!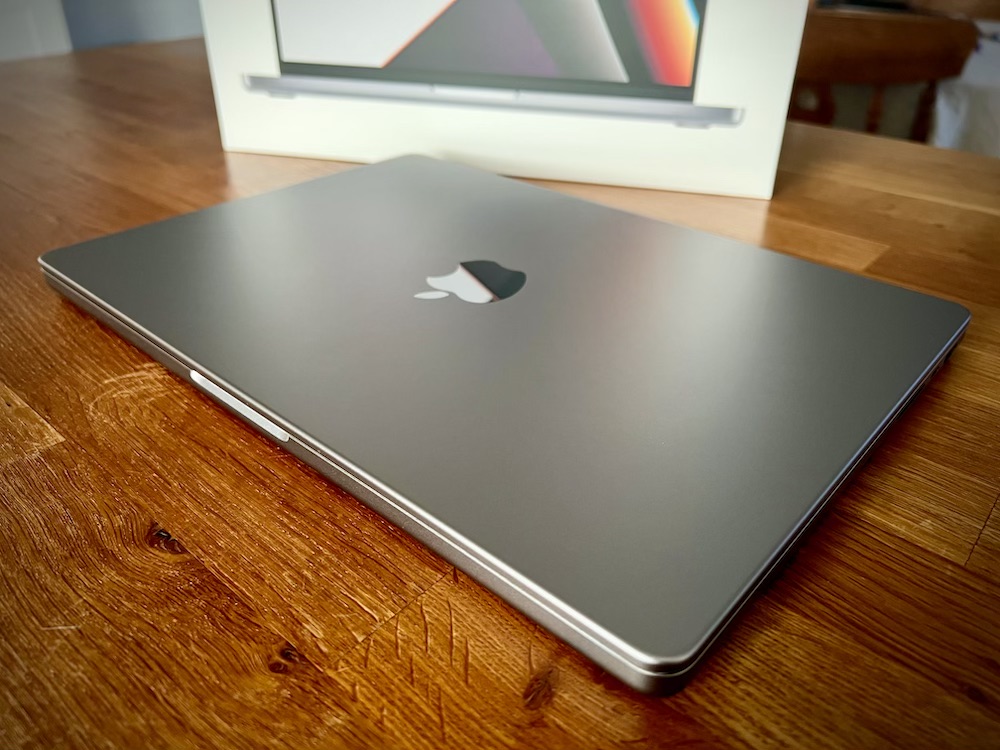 Let's break it down
Display 🖥
The screen is a noticeable upgrade from my old MacBook Pro. So much brighter, I can generally work with it on about 50% brightness whereas my old laptop was almost always at about 90%. Gives me high hopes it will also work nicely outside in the sun next summer.
There is also a noticeable difference in screen real-estate compared to my old 13 inch model. I generally have my screen resolution set to be scaled down, which makes the font and UI elements smaller and therefore further increases the screen real-estate. This on top of the extra size makes for a wonderful viewing experience and plenty of room for software development.
Audio 🔊
I'll start with the obvious - don't go expecting Sonos sound quality here. But for laptop speakers? Stunning. I thought the latest MacBook Air had good speakers for a laptop but after doing a side-by-side comparison they are nothing compared to the new MacBook Pro. The sound is just fantastic. When listening to music you get a very full, crystal clear sound, with good tone through all the frequencies. You can even feel the bass slightly through the chassis. I'm yet to try any movies or TV through it but I'm sure that'll be just as impressive.
Keyboard ⌨️
As expected from the time I've been using the M1 MacBook Air, they keyboard is great. It's responsive, feels great and it easy to type on. I wasn't sure at first from the initial images online, but the backlit keys on the black-backed housing look great in person too.
Performance ⚡️
Just wow. I thought the M1 chip was fast already (see my previous post about using the M1 MacBook Air as a daily driver for work), but these chips are on another level. They can cope with anything. I opted for the M1 Pro chip with 10-cores, 16GB RAM and 1TB SSD. This is only one level up from the base model in terms of the new chips, and I'm yet to hear any fan noise still and it runs cool as a cucumber. Mind blowing! 🤯
Battery 🔋
With the insane levels of performance you'd think the battery life would take a hit. You'd be wrong. The battery life on these machines is also mind blowing. The chassis is larger than previous versions and feels quite chunky - in fact I think it's just slightly larger and heavier than my old 2015 model. That said, this size is still nice to hold and use on your lap, and certainly welcome considering the gains in the battery department. When I unboxed the laptop it had about 86% in the tank. I installed a number of programs, downloaded and installed a software update and listened to music for a good couple of hours and still had almost 40% remaining! I've just charged to full capacity for the first time so I'm interested to see how long it lasts. Apparently these machines are capable of around 20 hours of usage!
Any downsides?
Honestly? Not really. If I'm being really picky there are 2 things that are mild annoyances.
The fan cutouts on the sides are not particularly comfortable on the hands when picking up the laptop. They're right on the edge rather than towards the bottom or side.
HDMI is great to have but the lack of HDMI 2.1 is a shame considering the price tag and other specs.
So far, that's it.
The verdict
All in all this is a fantastic machine - a great all-rounder with excellent performance, display, keyboard, audio and battery life. Of course it comes at a hefty price tag though! The spec I chose came in at £2299. I've been waiting years for an updated MacBook Pro with larger screen and these specs and I'll be surprised if it doesn't easily last me for 5 years or more. That said, this generation of MacBook Pros are certainly pro machines and are a tad overkill for most users. I love this laptop and would 100% recommend it, but if you're not a power user and in the market for a new laptop you cannot beat the M1 MacBook Air which starts at just £999.